FAIS as a Coordinator for KSRP

President: Morio Matsunaga
Basic Fund: 385.5 million yen
FY2018 Final Operating Costs:
Approx. 1.85 billion yen
Administrative Board:
[Academia] University Vice Presidents in KSRP, Presidents of Science & Technology Universities in Kitakyushu
[Industry] Business groups such as the Chamber of Commerce & Industry
[Government] City of Kitakyushu, Fukuoka Prefecture
Number of staff members: 65 as of May 1, 2019
12 from the city, 1 from the prefecture, 27 from the private sector (12 currently on loan from companies), 25 contract clerical staff & others
Here is a brief explanation about the Kitakyushu Foundation for the Advancement of Industry, Science and Technology, which serves as a coordinator of KSRP. This organization is called FAIS, an abbreviation of its English name.
Its main tasks are to provide coordinating services for industry-academia joint research and technological transfer, to facilitate the advancement of industry in the Kitakyushu area, and to promote the creation of new industries.
Organization of FAIS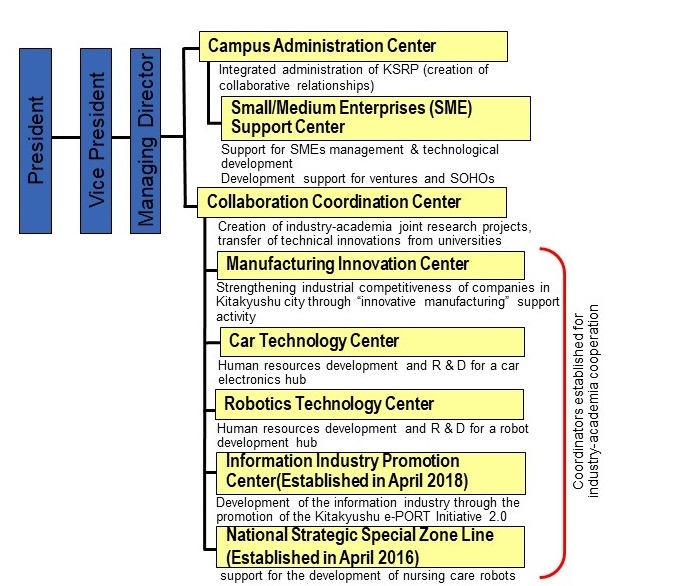 This is an organizational chart of FAIS. With the President at the top, it consists of seven centers, each of which plays a separate role in operating KSRP. Each center takes part in coordinating activities.