The environmentally pro-active campus supports educational research activities in the field of cutting-edge technology at the Kitakyushu Science and Research Park
Universities and research institutes related to science and engineering and research departments of companies are located on the same campus of the Kitakyushu Science and Research Park (KSRP). Here, various kinds of measures in which ecological considerations are incorporated have been taken to efficiently provide energy and water necessary for educational research activities. The Faculty of Environmental Engineering, the University of Kitakyushu for instance has incorporated efforts to use natural forms of energy such as light, breezes and heat; and introduced systems to use water and energy most efficiently. It has been developing its campus aiming to restore the surrounding nature and water cycle.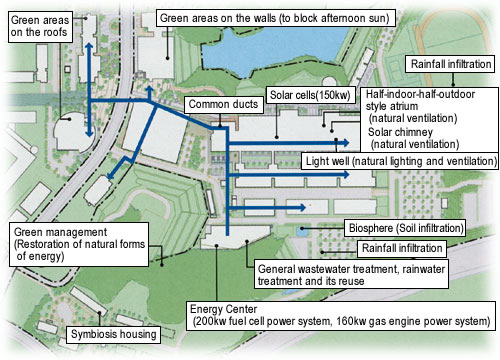 Nine Attempts Toward the Realization of An Eco-Campus

Environmental Symbiosis
Incorporation of natural wind
Incorporation of natural light
Green areas on the roofs and walls
Underground heat storage system for air conditioning and heating
Solar cells

Water Recycling

Water recycling system
Establishment of the Biosphere (*1) and natural waterway
This combined energy system has been established under a grant from the NEDO's project promoting the introduction of new energy across the region.
Biosphere is an environment inhabited by various wild creatures interacting with each other.