Goals for the Kitakyushu Science and Research Park
Becoming a core academic research center in Asia
An intellectual base for local industries is being established by gathering universities and research institutes and carrying out education and research related to cutting-edge science technology. Utilizing a geographical advantage and experience in technological cooperation in environmental fields with other Asian countries, the facility aims to be a core academic research center in Asia.
Promoting creation of new industries and further development of technology
The City of Kitakyushu, as an industrial city, has accumulated many leading industrial technologies. By linking the research and development activities with this experience, we promote the creation of new industries for future generations and continue to improve existing local industries.


Continuing prosperity of the City of Kitakyushu as an industrial city
Characteristics of the Kitakyushu Science and research Park
Universities and research institutes related to science and engineering and research departments of companies are located on the same campus
National, municipal and private universities
Public and private research institutes
Companies involved in research and development
Common educational and research principles among universities within the campus
Conducting of advanced education and research in the field of cutting-edge science technology
Promotion of collaboration between industry and academia - Commissioned research/Joint research/Consulting by industry veterans
Nurturing of the venture spirit
Establishment of a center for academic research in Asia - Conducting joint research/Acceptance of foreign students and student exchanges
Cooperative campus management, common-use shisetsu
The Steering Committee of the Kitakyushu Science and Research Park, composed of representatives from universities within the campus, makes plans for joint endeavors
Common use of libraries, information processing shisetsu, wellbeing facilities and others.
Exchange and collaboration among researchers, staff and students
Joint research and exchange of faculty among participating universities
Transferable credits with other universities
Coexisting with the environment/Eco-campus
Efficient utilization of natural energy
Effective utilization of water resources and purification of discharged water
Establishment of a composite energy system
The Innovative University Complex
The main feature of the Kitakyushu Science and Research Park is its innovative university complex;comprising national, municipal and private universities with the science and engineering faculties;which shares facilities and collaborates on research and education in order to create a high-level educational and research environment for the promising youth.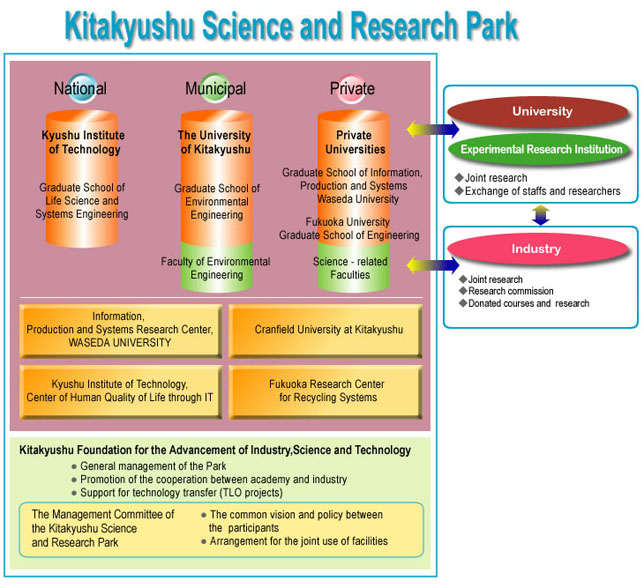 Kitakyushu Science and Research Park Project
Fundamental policy Taking advantage of both natural and urban environments, the facility hosts educational and research institutes related to cutting-edge technology, and at the same time provides a favorable residential environment. The science and research park is being developed with the idea of "Multi-perspective town planning".