Campus Management & Administration
The Science and Research Park (KSRP) is responsible for the comprehensive management and operation of all its joint-use facilities and promotes partnerships and exchanges among the universities in the Park.
Holding the KSRP Steering Committee meetings
Administration of the language education center (Japanese courses/English conversation courses)
The Hibikino Award for master's thesis
Public relations on KSRP (the Hibikino News/Exhibitions in the metropolitan area)
Promotion of the active interaction with community (the Hibikino Festival)
Promotion of collaborative projects with overseas universities
Support for grants for encouragement of postdoctoral research
Support for the Cranfield University (UK) at Kitakyushu for the operation of its campus in KSRP
Scholarship provision
Promotion of international student exchange activities
Administration and operation of the joint-use shisetsu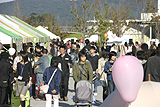 Hibikino Festival
Industry-Academia Collaboration
KSRP acts as intermediary to facilitate the sophistication of existing industrial technologies and creation of new industries.
Coordination of industry-academia collaboration/Technological consultation
Provision of research seeds of universities and research institutes in KSRP
Provision of places for exchanges between industry and academia
Support for research and development conducted jointly by the industry and academia
Promotion of the planning of industry-academia collaborative research projects/Support for the commercialization of the research outcome

We have the function of matching coordinators who promote exchange between businesses and universities. Please feel free to send us an email if you think we can assist you in finding suitable research partners, providing ways to utilize your technology, helping to obtain patents on your research results or transferring them to business.
Technology Transfer through the Kitakyushu TLO
The Kitakyushu TLO offers a support service to transfer the research results and technology of universities and research institutes which have been participating in TLO in order to create new industries, develop new products or to promote the advancement of existing industrial technologies. The Kitakyushu TLO was approved by the government as a technology licensing organization in April, 2000 and has been conducting technology transfer activities based in Kitakyushu City.
TLO, a technology licensing organization, aims to obtain patents for research results of universities and research institutes participating in TLO and transfer them to companies (license agreement) in or outside Kitakyushu City in order to facilitate the creation and development of new industries and products. TLO intends to return a part of the profits from companies (license fees) to universities and researchers as research funds. TLO activities have given rise to great expectations in may quarters as they serve as the driving force for a new cycle of intellectual creation which activates research by both companies and universities.
KSRP aims to foster semiconductor design venture companies.
Coordination between semiconductor design venture companies and university researchers and technology consulting
Promotion of collaborative projects on semiconductor design between companies and universities
Joint development (a minilaboratory system) and coordination of joint order reception (the Hibikino semiconductor venture circle)
The minilaboratory system plays a role in finding out about semiconductor-related needs of companies (application makers) which produce semiconductors incorporated in final products and determines if there is matched semiconductor-related seed technology in KSRP. For seed technology which needs further research, KSRP coordinates research and development between industry and academia; and for seed technology which matches company needs, incorporation of the technology in a product is the desired goal.
Human Resources Development
KSRP promotes human resource development activities through education and reeducation of undergraduate students, postgraduate students and engineers from the electronic industry.
Hibikino Semiconductor Academy
In order to support the education and re-education of postgraduate students and engineers from the electronics industry, the Hibikino Semiconductor Academy provides training services along with classroom lectures in cooperation between industry and universities. The training services include practical lessons in which semiconductors are designed, tested and evaluated.