Library
This is a facility with leading-edge information technology. The library has two functions. One is academic library specializing in the fields of science technology and the other is a public library containing a broad spectrum of materials related to the humanities in the fields of social science.
Size
Seating Capacity : 331
Collection : Approx. 160,000 volumes (as of December, 2017)
Main Facilities
Book information retrieval system, AV equipment, Personal computers, Entrance gate system, Automatic checkout and Return systems
Academic Area (Library)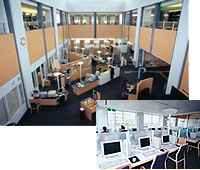 Scientific journals and newspapers are located on the 2nd floor.
Videos and DVDs can be viewed in the AV equipment.
You can search for books in the Library's collection and for various kinds of information via the web or by using CD-ROMs at the Information Search Section.
Technical books and materials needed for study and research are located on the 3rd floor.
Group research using library materials can be carried out in the Group Work Room.
Access to the campus network is provided for use with laptop computers at the reading desks on the 2nd and 3rd floors.
Library and book checkout hours: 9:00 a.m. - 8:00 p.m.
Public Area (Library)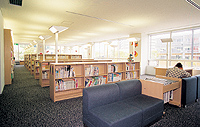 Books and magazines are available for general readers. Scientific videos in the fields of space and life can also be viewed in this area.
Library Hours
9:00 a.m. - 8:00 p.m. (Except Monday)
Checkout Hours
Tuesday to Friday / 9:30 a.m. - 7:00 p.m.
Saturday, Sunday and public holidays / 9:30 a.m. - 6:00 p.m.
*Please note that no checkout is available on Mondays except public holidays, and Tuesdays following the public holiday.