Semiconductor Center   »Floor Map
Chemical Process Room (Clean Room)
All processes of trial manufacturing of ICs including film formation using silane(Poly-Si, SiO2, Si3N4), ion implanter, dry etching can be implemented in this room. Various experiments using chemicals can be conducted within the draft chamber for acid and organic materials. (Note: Please let us know in advance if you are bringing in chemicals.)
[Equipment/Machinery]
Ion implanter, oxidation/diffusion furnace, sputter, reactive ion etcher, plasma CVD, low pressure CVD, ultrapure water system, etc.
| | | |
| --- | --- | --- |
| | | |
| Chemical Process Room | Plasma CVD | Ion Implanter |
Yellow Room (Clean Room)
This is the area for conducting photolithography employing laser beam and ultraviolet. A single exposure and direct patterning can be conducted. The laser pattern generator placed in this room provides highly accurate photomasks. The thickness of films (Poly-Si, SiO2,Si3N4 and resist) can be accurately calculated by analyzing the interference pattern using the film thickness measurement system installed in the room.
[Equipment/Machinery]
Laser beam pattern generator, spin coater, draft chamber, mask aligner, film thickness gauge, pattern length measurement system, etc.
| | | |
| --- | --- | --- |
| | | |
| Laser Beam Exposure System | Spin Coater and Draft Chamber | Mask Aligner |
Assembly & Instrumentation Room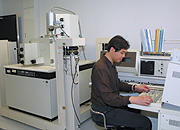 This is a space for the evaluation of electrical characteristics of the devices manufactured. Various types of electrical characteristics of transistors can be measured by using a semiconductor parameter analyzer. A manual prober enables you to make electrical performance tests of trial devices by direct-touching of probes to terminals on a chip as well as chips on a wafer. Wiring to ceramic packages can be easily made by a wire bonder. MEMS researchers frequently make use of the equipment here.
[Equipment/Machinery]
Semiconductor parameter analyzer, wire bonder, manual prober, etc.
Micro Process Room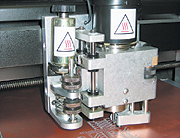 This multi-use room for wire-soldering, manufacturing, performance test, and so on. An original printed circuit board can be made by devices which imprint the designed electric wiring patterns on a Cu-electroplated circuit board.
[Equipment/Machinery]
Manufacturing devices of printed circuit boards, workbenches, tools, soldering bathes, measuring systems (power-supplies, oscilloscopes, function generators, etc.)
Layout Plan Room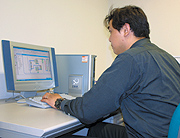 Layout design of photolithographic masks is made here by using CAD. Data obtained are sent to a laser direct imaging device through a network and then masks are made.
[Equipment/Machinery]
Layout CAD system